Thu Jan 24 '19 Announcement
over 2 years ago – Thu, Jan 24, 2019 at 12:44:55 AM
Hello Travelers, Technologists and Dreamers!
In this update you will find:
Shipping Update
Kickstarter LIVE + Backer Contest
Shipping Update
Let's cut right to the question most of you are wondering — what's the status of my Unravel and when will it ship?
We're glad you asked...here is the revised shipping schedule,
 
Week of December 17 - Batch 1 of Kickstarter Orders — Shipped!
Week of January 28 - All remaining Kickstarter Orders + all IGG orders placed before January 13th
Week of February 11 - Continue to ship remaining IGG orders

While at CES, our manufacturing team was working overtime assembling and testing to finish Unravels as quickly as possible — they have quite literally been working around the clock. In addition to the assembly of the Unravels, we are thoroughly testing every single unit as they come off the production line. This has taken longer than we anticipated. With the functionality in place to charge both standard Qi-enabled devices as well as Apple Watches, the testing process takes twice as long. We want to make sure every single Unravel unit is in 100% working order before shipping.
In light of the fact that it is taking us longer to assemble and test every Unravel, we have been ramping up our resources on this front. We are adding extra assembly lines and will continue to add more manpower every day.  
After our progress we've made this past week, we will begin shipping again next week. This means that we should be able to ship Unravels to all IGG backers who placed their order before January 13th — and completed their shipping survey — this month! Speaking of shipping surveys.. 
Shipping Surveys 
We have been getting lots of questions about how shipping surveys work. As a reminder, your shipping survey is issued to you 11 days after your purchase. This survey is sent out by BackerKit and will get delivered to the email attached to your Indiegogo account. 
We have had a few instances over the last week where some backers did not receive their shipping survey, we're sorry for this mixup! This has since been resolved and now all backers who placed their order before January 13th should have received their survey. 
If you placed your order before January 13th and you still have not received your survey, please get in touch with our CS team by emailing: wirelesstravel@stackpackandgo.com  
Last Chance to Finalize Your Survey 
As some backers missed their survey, we are extending the survey deadline for another 24 hours. This means that if you would like your order to be shipped next week, you have 24 hours to finalize your address in BackerKit. We will be closing the BackerKit surveys on Friday Jan. 25th at midnight.
If some of you have filled out your survey and need to make a last-minute change, this is your last chance also. Please reach out to our CS team (wirelesstravel@stackpackandgo.com) to do so. We will be preparing the next batches to ship next week and we will not be able to accommodate any more address changes as we prep the orders. 
If you fill in your survey after this deadline, your order will be shipped in the week of February 11th. 
**Please note:
We can't guarantee your exact shipping date, but we are doing our best to ship based on the order you backed. We will be fulfilling Kickstarter orders first, followed by IGG orders. As we ramp up assembly and testing resources, there will be very little difference between batch ship dates.
During this time, we ask for your patience. We will post news of shipping here on IGG as soon as it becomes available, so please keep an eye out — we promise that you'll be the first to know.
For those of you asking why you have not received a shipping notification — we have not sent any further shipping notifications as of yet. We will send shipping notifications once your Unravel ships out, you should start receiving these as of next week. 
Kickstarter LIVE + Backer Contest
Thank you to all of you who tuned in to our Kickstarter LIVE from CES! For those of you who missed it, you can check out that replay here (https://live.kickstarter.com/ampere/live-stream/live-from-ces-2019)
Unfortunately, the internet connection was pretty bad and the broadcast froze halfway through. So, we are going to try hosting another Kickstarter LIVE!
Our next Kickstarter LIVE will be Tuesday January 29th at 10pm EST
In preparation of this broadcast, we'd like to host a fun contest with a pretty cool prize…
The winner of this contest will win an additional custom color Unravel of their dreams!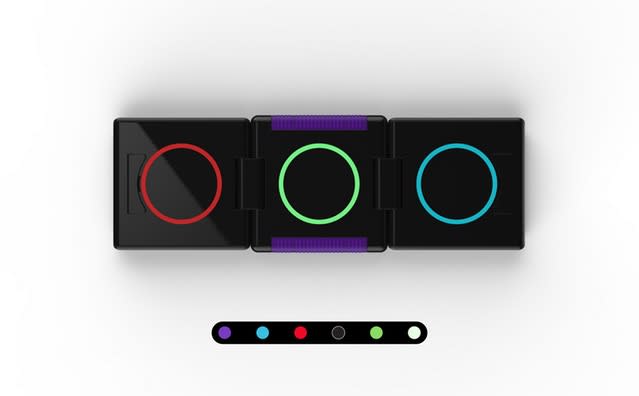 Fire-emoji Red on the side panels and Glow-in-the-dark in the center panel? We got you!
Was your favorite Ninja Turtle Donatello? Yes, you can have a purple and green colorway Unravel!  
Here is how you can participate:
Comment on our IGG Wall and let us know what you want to see during our next KS Live: comment HERE on our wall with the one thing you would like to see or have answered during the Kickstarter LIVE; we want to prepare this broadcast tailored for YOU
Watch the broadcast LIVE and comment: while you are watching the broadcast comment in the broadcast with a question or an emoji so that we know that you are watching
We will select one backer who has commented at random LIVE during the broadcast, but you will need to be watching it LIVE to be selected.
That's all for now. Big thank you to everyone still waiting on their Unravel for their continued patience and support!